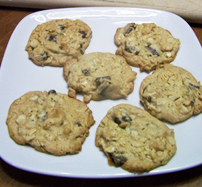 Oatmeal and honey make everything healthy.  Who am I kidding, maybe that's not entirely true, but these delicious cookies are just too hard to resist.  While you're enjoying the mouth-watering taste of these treats warm out of the oven, just repeat to yourself, "It has oatmeal and honey, so its good for me.".  Works for me!
1 cup sugar
1/2 cup shortening
1 egg
1/2 cup honey
1 teaspoon vanilla
2 cups plain flour
1 teaspoon salt
1 1/2 teaspoon baking soda
1 cup quick rolled oats
6 ounces chocolate chunks
Directions:  Cream sugar and shortening.  Add egg and vanilla and mix until blended.  In a seperate bowl, mix together the flour, salt, soda, and oats. Stir well to combine.  Slowly mix in flour mixture to creamed mixture until just combined.  Stir in chocolate chunks.  To bake, drop by rounded teaspoons on light greased baking sheet.  Bake for 15 minutes in a 350 degree oven.  Cool on wire rack and store cooled cookies in an air tight container.  Makes 3 dozen.
~Marsha Bradford