I have been trying to find a recipe for the perfect homemade plain cake.   I don't know about you, but boxed cake mixes seem to make shorter and shorter cakes every year.  I wanted tall beautiful cake layers, the way I remember them as a child. Tall layers are easier to cut in half and make those luscious holiday 4 layer cakes!  I adapted this recipe and I think it's a keeper!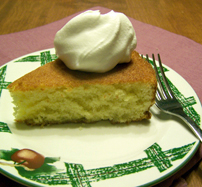 Ingredients:
1 stick butter flavored shortening (1 cup)
2 cups sugar
3 cups bread flour ( I used White Lily bread flour)
3 teaspoons baking powder
3/4 teaspoon salt
3 eggs
1 cup milk
1 teaspoon vanilla extract
Grease and flour 2 9 inch round baking pans.  Sift together the dry ingredients, flour, baking powder, and salt.  Cream together shortening and sugar.  Add eggs one at a time mixing well after each addition.  Add milk and flour mixture alternately, then add vanilla.  Scrape down bowl to be sure all ingredients are incorporated.  Pour batter evenly into baking pans and bake in a 325 degree oven for 35 minutes.  (Baking at a slightly lower temp makes the cake rise more evenly and not have the hump in the center) Cakes are done when toothpick inserted into center of cake comes out clean.  Cool in pan for roughly 2-3 minutes.  Turn cake out of pan onto a cooling rack cover in toule cloth and cool to room temperature.  Frost as desired.
~Marsha Bradford